Our tails are wagging with excitement!
The Fourth Annual Paws 4 A Cure Walk was held on Sunday, May 15, 2011 at Lake Quannapowitt in Wakefield, Massachusetts at 1:00.
Join us for an afternoon of tail waggin', treats and belly rubs, and show your support for our mission to help our furry friends and their human companions.
The purpose of this event is to raise money that will be directly distributed to veterinary hospitals for the pet owners and families that cannot afford veterinary treatment for their dog or cat without our help.

We work very hard to provide funds, awareness, and support to those who are battling canine cancer, other serious illnesses and injuries each year and I hope we can count on you for your support.
If you are unable to attend the walk, please consider a tax deductible donation to help an animal in need of medical care.

ONLINE REGISTER IS NOW CLOSED for the 2011 Paws 4 A Cure Walk. You will have the option to by cash or check at the walk.
$30.00 registration donation on the day of the walk
Time-Line of Events
Upon arrival, all walkers should visit the registration booth to check in and receive your goody bag, balloon and water.
· 1:00 PM - All walkers should check in
· 2:00 PM - Opening remarks / balloon release
· 2:15 PM - The walk begins
· 3:30 PM - Closing Remarks / Cake
Silent auction winners were announced immediately following the closing remarks.
All attendees joined the Paws 4 A Cure staff for "human" cake, The Barkery dog cakes and Dogswell treats after the walk. This after-walk celebration is being held in honor of Chee, the "Co-Founder" of our organization as she turns 14 years young!
Everyone at Paws 4 A Cure would like to thank you again for your on-going and generous support of our mission. Because of your commitment, Paws 4 A Cure will once again be able to help so many of our loyal companions through your donations.
---------------------------------------------------------------------------------------------------------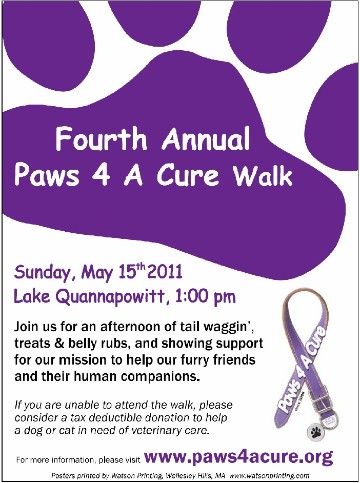 Copyright 2008-2021 © Paws 4 A Cure. All Rights Reserved.
Paws 4 A Cure, P.O. Box 1821, Wakefield, MA, 01880 info@paws4acure.org
Paws 4 A Cure is a non-profit organization recognized as tax-exempt under Internal Revenue Code section 501(c)(3).