Our tails are wagging with excitement!
Join us at the 6th Annual Paws 4 A Cure Walk on Sunday, May 19, 2013 at Lake Quannapowitt in Wakefield, MA at 1:00 (rain or shine). The start of the walk is at the gazebo next to the church.
Address for directions: First Parish Congregational - 1 Church Street, Wakefield, MA.

The purpose of this event is to raise money that will be distributed directly to veterinary hospitals for the qualifying pet parents that cannot afford veterinary treatment for their dog or cat without our help.
Register today where you can:
Register to walk;

Create a satellite walk team in your city and state;

Create a fundraising page;

Pre-order your walk t-shirt;
Add name to an eco-friendly balloon for the memorial balloon release.

Lake Quannapowitt is 3 miles. (shuttle service available, see below)
Dogs on leash are welcome.
$30 per online or mail-in registration.

Please park along the lake. Parking also available in the Town Hall parking lot.
* Do not park in the church parking lot. *


Friendly Paws of North Reading, MA will be providing shuttle service at the Paws 4 A Cure Walk on May 19th! There will be several checkpoints around Lake Quannapowitt for the Friendly Paws shuttle bus to pick up you and your dog then bring you to the finish line.
Check out the awesome businesses, rescue group and services that will be hosting a table at the 6th Annual Paws 4 A Cure Walk. Please visit the
2013
Walk Vendor
page and keep checking back as new listings will be added.
Please show your Boston Pride by joining us on May 19th at the Paws 4 A Cure Walk where we will be honoring the K9 Police Units of Massachusetts that worked tirelessly after the Boston Marathon bombings and every day to ensure our safety. K9s deserve recognition along with their human partners! We will be joined by K9 Officer Leo and his partner Officer Rossicone of the Wakefield Police Department who will doing a meet and great along with a demo. If you are a current or retired K9 Officer, please join us in celebrating your service to our communities!
Arrival - Please visit the Paws 4 A Cure booth to check in.
Visit the Vendor Booths

K9 Police Appreciation, K9 Police Demo and Meet & Greet

Opening Ceremony and Memorial Balloon Release

Walk Kick Off

When you return, please visit the awesome businesses, rescue groups and service booths that have come out to support Paws 4 A Cure! To see a list of the booths, click
HERE
.
* The schedule of events may change as needed.

Create Your Own Walk Team and Fundraising Page
When you register for the Paws 4 A Cure charity walk, you will have the opportunity to create your own walk team and fundraising page. Then you can invite your friends and family to join your team. Team members will have their own fundraising page where they can upload their own pictures. Each team member's fundraising totals will be reflected in the team's total. Many local and satellite walk teams are forming throughout the United States... start your own team now!
Create Your Own Satellite Walk Team
If you can't make it to the 6th Annual Paws 4 A Cure Walk in Wakefield, MA you can host your own walk team in your hometown or just help to raise money for Paws 4 A Cure by recruiting your friends and family to make a donation. Gather your other dog loving friends to join you and help promote Paws 4 A Cure in your own neighborhood.

Please click the link below then press save to complete and print the mail-in registration form.
Memorial Balloon Release

Each year at the Paws 4 A Cure Walk we add names to balloons that are released. The balloons send a message to heaven to let the animals and humans know that we are here thinking of them. If you are unable to attend the 6th Annual Paws 4 A Cure Walk in Wakefield, MA you can have a name added to a balloon by clicking HERE.

*Our balloons are eco-friendly, bio-degradable and environmentally safe.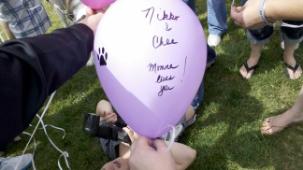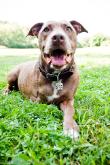 Meet Lilly the hero Pit bull that rose to fame by saving her human from an oncoming train. Lilly was able to save her human but Lilly was injured. Now Lilly and her dad; David spend their time to challenge the public's perception of Pit Bulls and the "Lilly the Hero Dog Fund is collecting donations to help animal shelters and rescue centers that save pit bulls and get them adopted." To learn more about Lilly, please visit her
website
.
Copyright 2008-2021 © Paws 4 A Cure. All Rights Reserved.
Paws 4 A Cure, P.O. Box 1821, Wakefield, MA, 01880
Paws 4 A Cure is a non-profit organization recognized as tax-exempt under Internal Revenue Code section 501(c)(3).