Support Paws 4 A Cure simply by walking your dog! Use the Walk for a Dog app each time you grab for the leash.
Walk for a Dog is the App that encourages dogs and their humans to walk, bike or run together. For every mile you take your Walk for a Dog, they will donate to Paws 4 A Cure. Get the App at WoofTrax.com
Click "Get the App" at the top of the page, install the free Android or iPhone app, and start taking your Walk for a Dog every day. Make sure to add PAWS 4 A CURE as the organization that you are walking for in the setup tab of the app for iPhone users, or in the settings menu for Android users. Paws 4 A Cure is based out of Massachusetts but is a national 501(c)(3) nonprofit charity.

Be sure to encourage your friends and family to choose Paws 4 A Cure to get the word out! The more people walking for Paws 4 A Cure, the more donations that will come in to help the dogs and cats that
http://www.wooftrax.com/faq/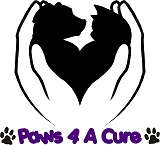 Copyright 2008-2017 © Paws 4 A Cure. All Rights Reserved.
Paws 4 A Cure, P.O. Box 1821, Wakefield, MA, 01880
Paws 4 A Cure is a non-profit organization recognized as tax-exempt under Internal Revenue Code section 501(c)(3).