Advertising, Marketing and Sponsorship Opportunities for Business
Reach our 30,000 annual web visitors with a basic corporate listing and link.
Customized, co-sponsored email to thousands of our donors and members promoting your business.
Promotional marketing and advertising for your company at our many fundraising events throughout the years.
Or let our (volunteer) marketing consulting firm design a custom package just for you.
For full financial disclosure, please visit www.guidestar.org.
Fill out the short form below and we'll be in touch to customize the perfect advertising, marketing or promotional package for your business. Email us at corporatesponsors@paws4acure.org and we'll get back to you in 48 hours.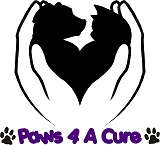 Copyright 2008-2016 © Paws 4 A Cure. All Rights Reserved.
Paws 4 A Cure, P.O. Box 1821, Wakefield, MA, 01880
Paws 4 A Cure is a non-profit organization recognized as tax-exempt under Internal Revenue Code section 501(c)(3).