This is a private page, so please do not share it.
Mobile Version Users: Click View Full Site at the bottom of the page to order.
The price includes shipping. Click the image to enlarge the view.
if you want to see our other merchandise for sale, click
here
.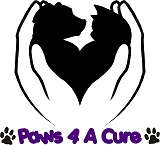 Copyright 2008-2015 © Paws 4 A Cure. All Rights Reserved.
Paws 4 A Cure, P.O. Box 1821, Wakefield, MA, 01880
Paws 4 A Cure is a non-profit organization recognized as tax-exempt under Internal Revenue Code section 501(c)(3).