Mission Statement:
The mission of Paws 4 A Cure is to provide financial assistance to qualified families throughout the United States who cannot afford veterinary care for their beloved furry family members. Paws 4 A Cure helps dogs and cats with all injuries and illnesses. Paws 4 A Cure does not discriminate against breed, age, weight or diagnosis.
Paws 4 A Cure is an all-volunteer, public, nonprofit organization recognized as tax-exempt under Internal Revenue Code section 501(c)(3). We do not receive any government funding. Paws 4 A Cure relies solely on the support and contributions of individuals who care about animals.
The goal of Paws 4 A Cure:

1. Generate financial support for the organization's initiatives with a primary focus on assisting canine/feline owners who cannot afford veterinary care for their pet.

2. Creating memorable events that will support the individuals, families and of course our furry friends.

Paws 4 A Cure is able to provide financial assistance* through our events and online donations.
Paws 4 A Cure is now able to provide assistance to canines and felines in need of veterinary care for all injuries and illnesses throughout the United States!


*Financial assistance provided is determined based on the funds available through the Paws 4 A Cure Organization. Veterinary care does not include vaccinations, spaying/neutering or euthanasia.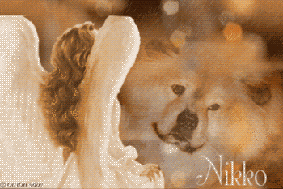 Nikko
November 1, 1994 ~ April 2, 2007
Adenocarcinoma & Melanoma
Gone but never forgotten

Paws 4 A Cure is a non-profit organization formed in 2008. The organization was created in loving memory of my Chow Chow, Nikko that went to the Rainbow Bridge on April 2, 2007 after bravely battling cancer. Nikko inspired me to form a group of like-minded individuals to assist other animals in need of veterinary care when their parents can not afford treatment.
Keri - President & Founder

On behalf of the entire Paws 4 A Cure organization, I take this opportunity to express our sincerest appreciation for your support and generosity.
It is through the support of individuals like you that we are able to continue to strengthen our services and promote health, healing and financial assistance to our animal companions and their owners.
Paws 4 A Cure will continue our mission in providing financial assistance and awareness in an effort to fight canine/feline cancer along with other animal illness and injury.
Again, thank you for helping to make our mission a reality.
Sincerely,
Keri Goldman, President & Founder