Thank you for your support and donations. See the video of who your donations have helped and some that are still helping. Your support means so much to Paws 4 A Cure and the families that you are helping.
The video below was created in January 2014 and does not include the 2014 or 2015 Paws Recipients.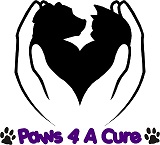 Copyright 2008-2017 © Paws 4 A Cure. All Rights Reserved.
Paws 4 A Cure, P.O. Box 1821, Wakefield, MA, 01880
Paws 4 A Cure is a non-profit organization recognized as tax-exempt under Internal Revenue Code section 501(c)(3).