Help raise money for Paws 4 A Cure the following ways.
Click on the logos or picture to be connected to their website
Donate office items to reduce overhead costs.
Items Needed:
Postage Stamps

Giftcard to Staples or Walmart for paper and other supplies needed, such as printer ink.
Do you have empty printer ink/toner cartridges? Don't throw them away, Paws 4 A Cure would be extremely appreciative to receive them so that we can turn them in to receive a discount towards new ink cartridges for our printer or for other office supplies like paper and envelopes.
Do you have a product or service that you would like to donate a portion of the proceeds to Paws 4 A Cure? Click HERE to complete the online form.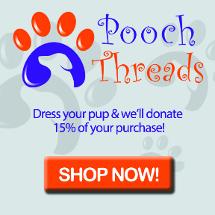 Pooch Threads will donate 15% of your purchase when you shop at the link below.
Support Paws 4 A Cure simply by walking your dog! Use the free Walk for a Dog app each time you grab for the leash.
Walk for a Dog is the App that encourages dogs and their humans to walk, bike or run together. For every mile you take your Walk for a Dog, they will donate to Paws 4 A Cure. Get the App at WoofTrax.com
Click "Get the App" at the top of the page, install the free Android or iPhone app, and start taking your Walk for a Dog every day. Make sure to add PAWS 4 A CURE as the organization that you are walking for in the setup tab of the app for iPhone users, or in the settings menu for Android users. Paws 4 A Cure is based out of Massachusetts but is a national 501(c)(3) nonprofit charity.

Be sure to encourage your friends and family to choose Paws 4 A Cure to get the word out! The more people walking for Paws 4 A Cure, the more donations that will come in to help the current and future Paws Recipients.
Free Ways to Help Paws 4 A Cure Raise Much Needed Funds.

Every time you shop at any of 900+ online stores in the iGive network, a portion of the money you spend benefits Paws 4 A Cure. It's a free service, and you'll never pay more when you reach a store through iGive. In fact, smart shoppers will enjoy iGive's repository of coupons, free shipping deals, and sales. To get started, just create your free iGive account.
Our everyday lives are plagued by toxic chemicals that you may not even realize are making you and your family, furbabies included, sick. Rid your life of the dangerous toxins in your home by switching your brand to Melaleuca. With superior products to replace everything you use every day, that are powered by nature and proven by science, you can rest easy knowing your family is safe from cancer-causing chemicals. And your every purchase donates 5% directly to our cause! Contact our representative, Rachel Childress, directly at (781)941-0706 or Rachel.childress@ymail.com to get started on your path to wellness and to help us help others!
Copyright 2008-2018 © Paws 4 A Cure. All Rights Reserved.
Paws 4 A Cure, P.O. Box 1821, Wakefield, MA, 01880
Paws 4 A Cure is an all-volunteer 501(c)(3) nonprofit organization that provides financial assistance throughout the United States to those who cannot afford veterinary care for their beloved furry family members. Paws 4 A Cure helps dogs and cats with all illnesses and injuries. Paws 4 A Cure does not discriminate against breed, age, or diagnosis.