Welcome to the Paws 4 A Cure Online Store!
Here is your chance to order your Paws 4 A Cure t-shirts, car magnets, tote bag and so much more.
100% of the proceeds of the merchandise sales go towards helping our Paws Recipients get the veterinary care that they need.
The credit card processing fee is included in the price of the item. The PayPal rate per transaction is 1.99% + 49¢.
The shipping costs will be calculated when you check out. If you find that the shipping cost does not seem to be correct, please send a message through our
Constant Us
page with the item and your address so that the shipping cost can be verified with the post office for accuracy.
Are you a fan of Willy Wonka & the Chocolate Factory or know someone that is? Friend to Paws 4 A Cure Julie Dawn Cole - The ORIGINAL Veruca Salt from Willy Wonka & the Chocolate Factory has generously shared her drawing of her character to benefit Paws 4 A Cure. The exclusive Paws 4 A Cure Veruca Salt t-shirt, onsie & car decals are available in our online store along with so many other Paws 4 A Cure items. 100% of the proceeds go towards helping the dogs and cats that Paws 4 A Cure is assisting to get the urgent veterinary care that they need throughout the United States. Head over to www.paws4acure.org/store.php
Watch the video of Julie talking about the Veruca Salt/Paws 4 A Cure collaboration then place your order.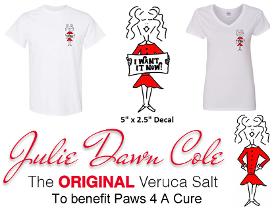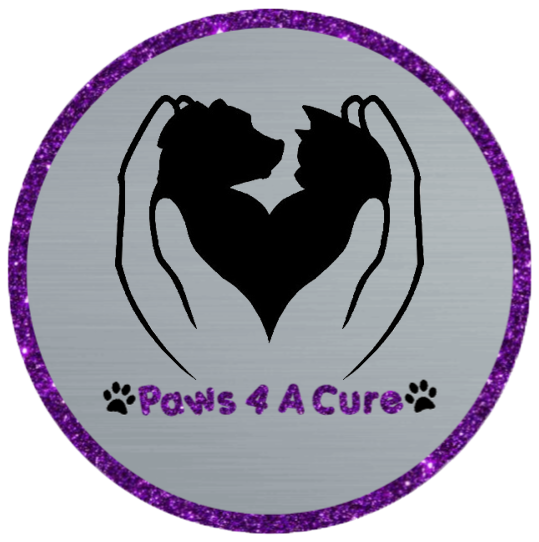 Copyright 2008-2023 © Paws 4 A Cure. All Rights Reserved.
Paws 4 A Cure, P.O. Box 1821, Wakefield, MA, 01880
Paws 4 A Cure is an all-volunteer 501(c)(3) nonprofit organization that provides financial assistance throughout the United States to those who cannot afford veterinary care for their beloved furry family members. Paws 4 A Cure helps dogs and cats with all illnesses and injuries. Paws 4 A Cure does not discriminate against breed, age, or diagnosis.