Find us on Facebook, Twitter and Instagram: paws4acure
If you are in need of financial assistance, please visit our
Ask For Help
page.
Financial Assistance Resources:
Below is a list of helpful resources for information and financial assistance. Click on their name to be re-directed to their website. Also check their list of resources.
There are five sections below:
The United States Department of Veteran Affairs is for military veterans only.
The General Assistance is for all illnesses and injuries.
The Cancer Assistance is for all programs that handle cancer diagnoses only.
The Emergency Pet Food Assistance is for Massachusetts residents that need emergency help.
The Additional Resource are everything else...
United States Department of Veterans Affairs
This is for Veterans who have service dogs, Title 38 Section 1714 enables veterans to ask their caseworkers to file VA Form 10-2641 in order to receive financial assistance for veterinary care of service animals. See question #4 when clicking on this link.
The Pain Medicine service at Angell Animal Medical Center offers treatment for companion animals with discomfort that negatively affects their quality of life, regardless of their primary diagnosis. Many of our patients have complex medical issues that complicate treatment for pain. Some owners seek help in accurately determining whether their animals are in pain and how much they are suffering. Many of our patients are nearing the end of their life and this service helps pet owners decide on comfort care measures and address quality of life concerns. www.angell.org/painmedicine.
The Oncology service at Angell Animal Medical Center
Angell's board-certified veterinary oncologists are committed to improving your companion's quality of life in an atmosphere of caring and compassion. They work together with our board-certified anesthesiologist, surgeons, in-house pathologists and Pain Medicine clinic to provide maximum comfort and safety for patients. This includes routine use of Vascular Access Ports to more comfortably administer treatment (less needles!), and Intensity-Modulated Radiation Therapy (IMRT). IMRT shapes radiation beams with such precision that nearby structures (eyes, heart, etc.) remain unharmed, and side effects are drastically minimized. www.angell.org/radiation

With a referral letter from Paws 4 A Cure it will give you a 15% discount. Paws 4 A Cure acceptance letter must be presented at the time of service.
Pet Cancer Support Group - on Facebook under Pet Cancer Support
"The Pet Cancer Support Group is a group of caring, knowledgeable pet owners who know what you're going through right now, and who are there to share the journey with you. Members include people whose pet has recently been diagnosed, and those who have already fought the battle....including some great success stories of dogs who have faced overwhelming odds and beaten cancer."
Walgreens Prescription Savings Club
"Save on pet medications for chronic conditions like arthritis, epilepsy and diabetes. Plus, members earn 10% reward on Walgreens brand products."
Dog Food Advisor
"The Dog Food Advisor
is a public service website designed to help you make a more informed decision when buying dog food.
We know who actually makes each dog food, the brand's recall history and the company's safety practices.
We know how to read labels… and how to correctly interpret a recipe's nutritional content. We also know how to find out where the ingredients come from, which additives are safe and which ones are toxic…
Plus dozens of other important facts and statistics about every product."
California Pet Pharmacy
"Save Up to 70% On Pet Medications at California Pet Pharmacy
Same medications as your vet's office but less expensive.

We do all the work in getting your vet's Rx approval.
Located in Hayward, California & licensed to ship pet medications to ALL 50 states.
Use "GoodRx12" at checkout for additional discounts on select meds."
Tiny Paws Fresno
Tiny Paws Fresno is a 501(c)(3) non-profit animal welfare organization & charity that was created to raise both awareness and money to help save these pets lives by offering financial assistance to help alleviate the high cost of upfront fees for critical life-saving emergency treatments.
We also support our community that offers socialization, education and resources by promoting the value of owning a dog; creating fun and educational experiences with dogs, and helping current owners become better owners.
CBD Oil For Dogs
"CBD oil helps pets who are suffering from poor and declining health (mentally, behaviorally, and physically). But with so much misinformation floating around the internet, it's hard to know where to begin when deciding if this is a good fit for your family and your fur baby. To help answer all those questions buzzing through your mind, Joy Organics just published CBD Oil For Dogs : Everything a Dog Owner Must Know. This comprehensive guide gives pet parents everything they need to know about CDB oil for dogs: how and why CBD oil works for dogs, the benefits of using CBD oil, conditions this oil helps improve, the different methods and servings for administering CBD oil to your dog, what to look for when purchasing CBD oil to ensure purity, and even answering all those questions surrounding the legality of it all."
USAPetMeds
"Does your pet take medication that can be picked up at the local pharmacy, then you can use the free discount prescription drug card for your pets. You can use the same card to purchase PET ONLY medications by accessing the website on the card."
365 Pet Insurance
"At 365 Pet Insurance, our mission is to be an impartial knowledge base on all things Pet Insurance. Currently, only four percent of pet owners carry a pet insurance policy, and we seek to help pet owners understand the, at times, confusing landscape of pet insurance. We take a logical approach to policies, carriers and pet health in general, helping break down insurance jargon and allowing you to gain access to real customer insights and reviews so when you are picking a pet insurance policy, you can make the best decision."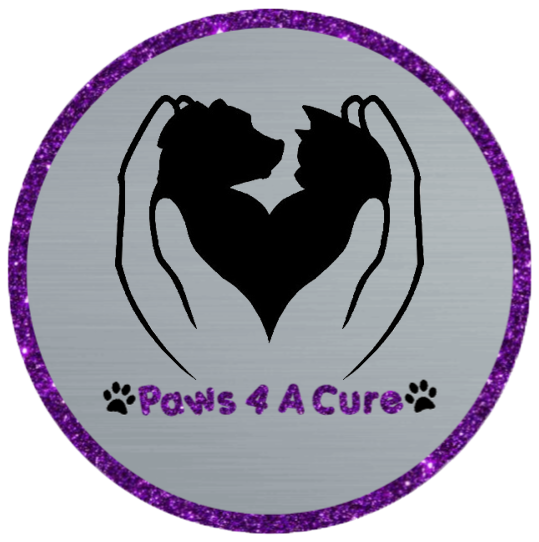 Copyright 2008-2022 © Paws 4 A Cure. All Rights Reserved.
Paws 4 A Cure, P.O. Box 1821, Wakefield, MA, 01880
Paws 4 A Cure is an all-volunteer 501(c)(3) nonprofit organization that provides financial assistance throughout the United States to those who cannot afford veterinary care for their beloved furry family members. Paws 4 A Cure helps dogs and cats with all illnesses and injuries. Paws 4 A Cure does not discriminate against breed, age, or diagnosis.